My kiddo gave me unexpected gift last week.
He didn't intend it for me. He created it for himself.
But it was a gift to me all the same.
We've had a tough year. Really, an up-and-down few years—we are well into his teenage-hood, after all.
We hang on through the rough patches—my son, his dad and I. Sometimes, we're like the starfish in Finding Nemo's dentist office aquarium, who struggles to maintain her grip on the tank wall while the brace-faced "fish killer" Darla pounds on the glass with her pudgy finger. In this household, as we bear the reverberations of adolescence and anxiety and communication breakdowns, some days all we can do is repeat that starfish's mantra: Find a happy place… FIND a Happy Place. Find a HAPPY PLACE!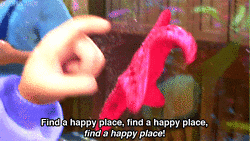 Life has been getting better for my kid, inch by inch in the past few months. But—as you may have surmised from the lack of regular posts on this "we love this quirky life" blog that I've created—we still can't go very many days without something hitting the proverbial fan.
So when I grabbed my kid's iPad to stuff into his backpack one morning last week and paused to close any open apps, it felt like I had be given a surprise present.
Apparently my boy has learned how to take selfies on his iPad. During class. I found a handful of photo selfies and, even better, some short videos.
These are pure evidence of my kid in his unedited, unstressed, quirky, happy form. His sing-songy, "I've Been Workin' on the Railroad" mode. His goofy laugh-at-my-selfie self.
I don't even care that he is clearly not paying attention to whatever lesson is being taught. It's possible that the class was taking a break, or an aide encouraged him to record himself, but it doesn't matter. I like to think he turned on the camera on his own. Just to document this moment of simple joy.
I appreciate the gift.
Because when I see that, even for a few moments, my son has found his happy place?
I find mine too.